The Fireflies need to be collected on some levels, so learning how to do this is important.
They remain in one place on the board until you successfully match them and they fly away.
Fireflies have three states:
Wings closed
Wings open a little
Wings fully open
You change the state of the Firefly by making matches of Cropsies next to them.
To collect the Firefly, you must change the state to 'Fully Open' on all Fireflies on the board. Only when all of them are in this state at the same time, will they fly away together.
You don't need to change the state of the Firefly at the same time, but if you change one, remember its state might change if a match is made next to them, even if it's by accident or due to a cascade.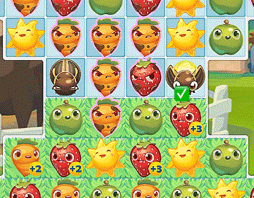 Image: One Firefly (on the right) is open, so the second needs to be matched twice. From closed, to open, to fully open - before the match is complete and the Fireflies are removed.
Finally, here's a video explaining how to beat the tricky challenge of Fireflies: