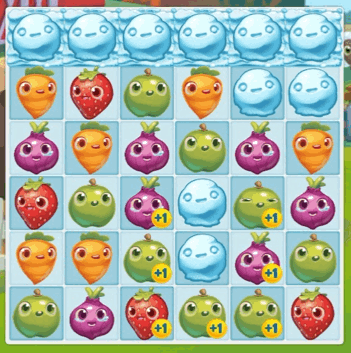 Image: 3 snowballs being removed by matching adjacent red-onion Cropsies

Any Cropsie that lands on a snow patch will turn into a snowball. Match next to a snowball to break it and set free the Cropsie inside.
You can't match a snowball with anything, so you need to make sure you can move a Cropsie into its place and match it with something else! Cold!!
Snow patches turn Cropsies (including Grumpy Cropsies, Bombs, etc.) & eggs that land on it into snowballs!
Snow patches don't move. They lie directly on the board, waiting for something to land on it.
Any Cropsie, egg, Grumpy Cropsie or bomb that lands upon a snow patch will turn in to a snowball.
Make a match next to a snowball to release the item inside.
Some snowballs begin the level as snowballs, so can't be changed back.
Important note: If a bomb gets turned into a snowball, the countdown timer on the bomb will FREEZE but if you shake the snow off by matching adjacent, that counter will continue where it left off.