Water droplet Cropsies are just like the other Cropsies and can be matched and count toward your level goals.
When you make a match next to a bucket, the water level inside it goes up. With enough matches, the water droplets reach the top and jump out onto the board.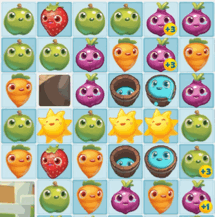 Image shows three green apple Cropsies being matched to make a full water bucket splash water droplets
On some levels you may need to match water droplet Cropsies but no water droplet Cropsies appear on the board. In these cases, you use buckets to add them onto the board.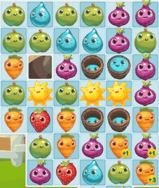 Image shows three matched water droplet Cropsies
You can then match the water droplet Cropsies as normal to collect them.