Match Cropsies next to a flower to make it grow and bloom.
Each time you match next to a flower, it will grow one stage until it's fully bloomed and removed from the board.
You will need to match next to a flower 3 times for it to count toward your collection.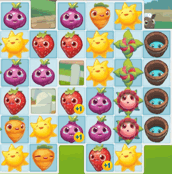 Image: 3 adjacent matches allow the flower to grow and be collected.
Don't forget you can use a shovel booster to grow a flower one stage.
Pro Tip: In some levels your task will also be to plant the flower, by matching a flower seed with a water droplet. Be sure to check the total number you need to collect for the level and how many you already have on the board. If you need more, you'll need to plant the seeds and show some love to the pending bloomer!