If you make a match next to a frog, it will jump to a spot where it can eat nearby Cropsies of its own color.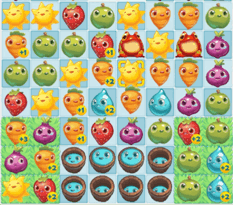 Image shows matches of Carrot Cropsies next to two red frogs.
Followed by the frogs jump and eat (red) Strawberry Cropsies.
Be sure to check the goals for your level, as the frog might just be tempted to steal the Cropsies you're trying to collect. If so, try to avoid triggering the greedy frog!
The frog will always devour as many Cropsies as it can, so watch out!