Match Cropsies next to a spider to make it move.
If the Spider is surrounded by webs, you'll need to match the Cropsie trapped inside to break the web. Then you can match next to the Spider, so it jumps away and onto the next nest.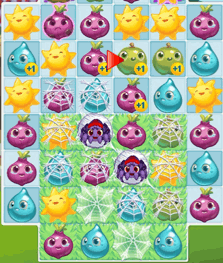 Image: Match a trapped Cropsie to make the Spider jump from one nest to the next.
-
When there are no nests left, it'll jump off the board and you'll collect it.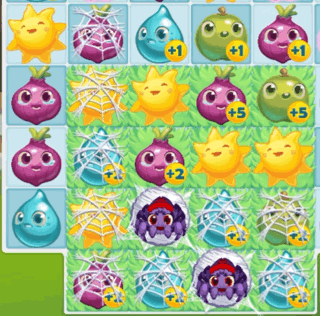 Image: If there are no more nests left, matching next to a Spider will make it jump from the board and collect to your goal.
-
Pro tip: You can use a shovel or tractor booster to help you clear spider webs, but you can't use it to move the Spider itself.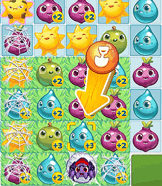 Image: Using a Shovel to make the red onions match next to the Spider, moves it off the nest and collects toward your goal.
-
Here's a video giving some more guidance on the Spider!