Grumpy Cropsies are the dirty and angry-looking ones, covered in purple slime. Cropsies become grumpy if they land on the purple slime that appears in some levels.
If you make a match that includes a grumpy Cropsie, the whole match will turn grumpy and they won't count toward your target goal. So be careful!
You can clean up Grumpy Cropsies by moving them to clean green grass.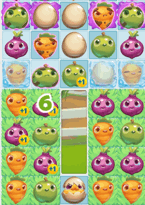 Image shows a 'Grumpy' apple converted into a clean Cropsie by moving to the grass.
Pro tip: Depending on the level you might be able to return the grumpy Cropsies back to normal with grass created using seeds and water droplets. The Clean-Up Grumpy Cropsies booster will also do the trick.
Turn those frowns upside down!